The following post has been submitted by Arlene Fox in collaboration with Jodi Lee Fleming Photography.
When I first committed to this project, it wasn't exactly because it was in my comfort realm, but because I saw the enthusiasm and passion in the sparkling eyes of the 'She Is' creator. I recognize now that it also had something to do with my profound need to want to make others happy, and my not-so-occasional inability to say 'no'.
So, as with all of my off-the-cuff commitments, I found myself thinking "I can't believe I agreed to do this!" However, through all of my apprehension and procrastination getting started, I still figured that perhaps there was more to gain than to lose.
And here we are.
Stepping out of my comfort zone and taking part in this trek (including being in front of the camera rather than behind it), has actually proven to be worthwhile. Evidently doing what I can to impart my wisdom (if that's what you want to call it) on others and helping out, brings me joy and happiness. Additionally, the process of self-reflecting and the action of scribing those thoughts onto paper has been time well spent. I highly recommend it!
I can see now, although I've always known it, the value in taking the time to focus on myself.
Over the course of my time organizing my ideas and thoughts, I started to recognize a pattern in my writing. I noticed that as I wrote and shared about a time when life got a little tough, I would stop myself from leaning too heavily towards the negative aspects of that experience, and I would start to write about how grateful I was for having experienced it in the first place. The ultimate message I want others to hear is about how powerful gratitude can be.
I am grateful for my family. I am grateful for my friends (including the the four-legged ones), and I am grateful for my faith.
Truth be known, I have always sought (and continue to seek to be) a greater version of myself. In my case I'm not sure if I've ever considered it to be a journey of self-discovery, I've just known it to be a continuous cycle of self-improvement.
Since I was a teenager, I've enjoyed reading books that in some way or another revolve around self-improvement or the betterment of an individual (there is still a pile of them at my bedside). However, my preoccupation with other activities would often keep me from looking too deep and moving forward too quickly. The pace of the 'work' has been slow, but over the years, the moments when I've really needed to stop, listen, and reflect, have presented themselves to me time and time again. I have relied on trusting that I'll be equipped to handle whatever life throws at me, even if I know I've been distracted or neglected my soul.
Of course, having the courage to trust my decisions has been an area I continue to work on. I tell my daughter "make wise choices" (because heaven knows I've certainly made my share of mistakes). This is a bit of a mom-brag, but she is actually much more confident and wiser in her decision-making than I could ever fathom for myself. This makes me super proud! We all make mistakes, this I recognize. And to be honest, I'm still learning to forgive myself for all of the unintentional hurts that a lifetime of living and learning have created. To all those that felt the effects of the threads that unknowingly I pulled upon, I am sorry, I hope you can forgive me.
Within a relationship the responsibility for failure lies with both parties, and I assume my weaknesses. Hindsight really is a magical thing. Looking back with the knowledge that I have incurred, if given the chance, I would most certainly do a few things differently. However, perhaps each of those little mistakes and failures happened for a reason. We all do the best we can with what we have (give it the old college try, if you will). How we proceed afterwards is what holds the most merit.
I've learned that in the hike onwards and upwards, a key ingredient is forgiveness. Forgiveness not only of others, but of myself. Forgiveness just feels good! Revenge, anger, and guilt are exhausting emotions. It takes way too much negative energy and it's far easier to hold on to love. Choosing to forgive is like whipping up a nice old pecan pie. It's a reward of peace, comfort, and satisfaction because in your heart you know it's the right thing to do. I've also learned that not everyone has a hankering for pecan pie, and that's ok too! Sometimes just being willing to share a slice is enough. You can't please everyone all at once and not everyone comes to forgiveness as easily or as quickly. Just do the right thing, so long as you remain true to yourself.
I feel truly blessed to have had the privilege of growing up within a strong immediate and extended family. Growing up in a loving Christian home brought me so much joy and comfort. Additionally, my parents built a masterful dairy farm operation which helped me appreciate the value of hard work. I'm sure I would have thought otherwise as a kid, but hard work has proven to be a very useful attribute throughout the entirety of my life. I especially loved all of my four-legged friends (horses, dogs, cows, and cats). I feel strongly that the agricultural community, the outdoors, school, and church, all worked cohesively to help me grow into a well-balanced individual with strong roots. I also feel a major source of pride and gratitude towards the community I was able to live and teach in. I feel incredibly proud of my work in the classroom and I owe a lot of that to the eagerness of each child that stepped into my classroom.
There really are no words to describe how blessed I feel and how thankful I am for the family I once had, still have, and for my friends; the family I chose to have. Without these people, who have been there for the happy times and the difficult times, I'm not so sure what would have become of me. To my 3 F's: family, faith, and friends, thank you!
I am grateful to have been, and continue to be, a mother.
Probably the greatest test of my faith has been during times of great loss. Great losses for me, are the loved ones whom are physically gone but yet are still imbedded in my soul. I need not share all the details of these losses, but it is important for me to note that as tragic as they were, it's always been a part of me to think 'it could have been worse'. Some would say to me, 'what do you mean? How could it get worse than losing your child?' And the answer lies in my faith. It would have been worse to not know where my son was, or worse to know he was alone. I believed and trusted that he was safe and sound in the loving arms of God. The same is true of my Mom who now is in heaven with her loved ones (her grandsons among them).
Everyone goes through tough times, some worse than others…and it's all quite relative I suppose. We all feel what we feel, until something else comes along that tests your happiness, your despair, and your faith. To say it was challenging may be a bit of an understatement but finding a worst-case scenario for my life-situation, has made my losses seem less tragic.
When we lose the ones we love, our whole world stops…yet it keeps turning for everyone else.
Moving forward was very important for me. I needed to push on and find my new normal (not that I was normal before, or have been since, hah!).
I was a mom, and then I wasn't.
Talk about a game changer!
As difficult as it was to let go of the mother/son relationship that I had known, I found solace in believing that his spirit would be with me always. He still watches over my family and myself and every now and then I get a sense of the magnitude by which the heavens work. Just a few years ago my daughter was in a very serious car accident that she miraculously walked away from. Everyone said she was 'lucky to be alive', and that she was! I believe with all of my heart that she had both her brother and her grandmother protecting her that afternoon.
The pain of deep loss eases and the wound heals (much like a really bad cut that leaves a scar). However, the hole in my heart is still there along with the scar that serves as a reminder. These great losses have made me appreciate how short life is and the importance of living every day to the fullest.
I came through the dark side of that valley concerned with getting stronger, more so than being perfect. Rather than worrying so much about what other people thought, I tried to be courageous and move forward in a new direction. I floundered and struggled…and my ten-year-old self would never have imagined that my life would take me where it did, but I had to move forward.
I sometimes feel that the old saying, "when one door closes another one opens" was actually written just for me. I was forced to close a door no one is ever ready to shut, but I was fortunate enough to have several other doors to choose from. Fear of more hurt, loss, and failure prevented me from moving forward as quickly as I would have preferred, and it still sometimes has me wondering how life would have been different if I had walked a little further and chosen another door. Yet, here I am…so undeniably grateful for everything that is laid out before me. My beautiful daughter was behind one of the doors I chose to open. What a sacred sight at the end of hallway!
Far more than anything else, being a mother has grounded me. It's a massive responsibility and huge undertaking, but it's been worth every second. Demanding as motherhood is, the rewards are priceless. The love I've felt towards my children, the beautiful human-beings who have depended on me, has been the greatest joy I've known. I feel blessed to have the opportunity to once again be a mom and enjoy the work, humour, and pleasure of parenting. It's the best!
I am grateful for the little things, and I am grateful for the seasons (of life).
Being physically ill or emotionally weak is when I feel the most vulnerable. Although I am fiercely independent, I've discovered it is actually OK to lean on others to help take care of you when needed. The importance of the 'golden rule' which is to treat people the way you want to be treated, is so important as we travel down the road. Helping others and being kind just feels good!
I certainly don't want to pretend to know it all, but my little bits of life-advice often boil down to common sense (which doesn't always appear to be so common in the world these days). Power comes from within, being an individual, and remaining positive. Believing that "I can" accomplish what I set my mind to is a habit of mine. I am so fortunate to have the freedom to pursue my own happiness…so I choose happiness! Quite often we are compelled to listen to the little voices in our head (more of a mindset, than crazy town) telling us "you can't do that, are you nuts?!", and this has the potential to become a self-fulfilling prophecy. Turn down the volume in that old noggin of yours and take the time to know who you are and what you want. Take the driver's seat, don't let life drive you. And lastly, connect with your spiritual self.
Working on my self-confidence is a task that I understand to come from within (notice how I put that in present tense). Being a gregarious ginger with a giant personality does not necessarily mean you are self-confident! If you can feel confident in doing the best you can with what you have, it'll certainly make travelling down life's' road a little less bumpy. We all make mistakes, but it is important not to dwell on those mistakes.
We are unable to control many of the events that happen to us or how some people will treat us, but we can control how we react to them. Decide not to be reduced to acting selfishly or poorly because of the bad things that happen around us. Take the high road.
I take pleasure in chatting with and listening to others. I am curious in hearing about their lives, challenges, problems, achievements, dreams. There is usually some laughs and something to be learned from others. So open that bottle of wine you've been saving since Christmas, and don't add too much water to your whiskey!
The next season (literally and figuratively) is upon us. Fall is a time of change. The weather is cooler, leaves are turning color, children are back to school, and there is never a better time for setting new intentions. In this next season of life, I intend to enhance my time by creating space for personal pursuits. I will continue to read my books. I will focus on being kind and giving back to others. I will continue to work on enjoying the moment and letting go of the things I cannot control. I will not take my health for granted. I will continue to express myself in the ways I know how, including spending time with my music, being outside in the garden or with the dog. I will prioritize my time with my friends and family. I will listen more. I will say yes to the things that make my heart sing, and I will never stop growing.
And so, there you have it! With my hard losses and great blessings in life I realize the importance of embracing each day. The future is a mystery. Love and respect each other. Be kind. Keep learning.
"This is the day; may we celebrate and rejoice in it!" And, I suppose if you peel away the sunny, curious, spirited, reflective, goofy, hopeful individual, you'll find that I'm just Arlene; fortunate and blessed.
I am Arlene and I am GRATEFUL.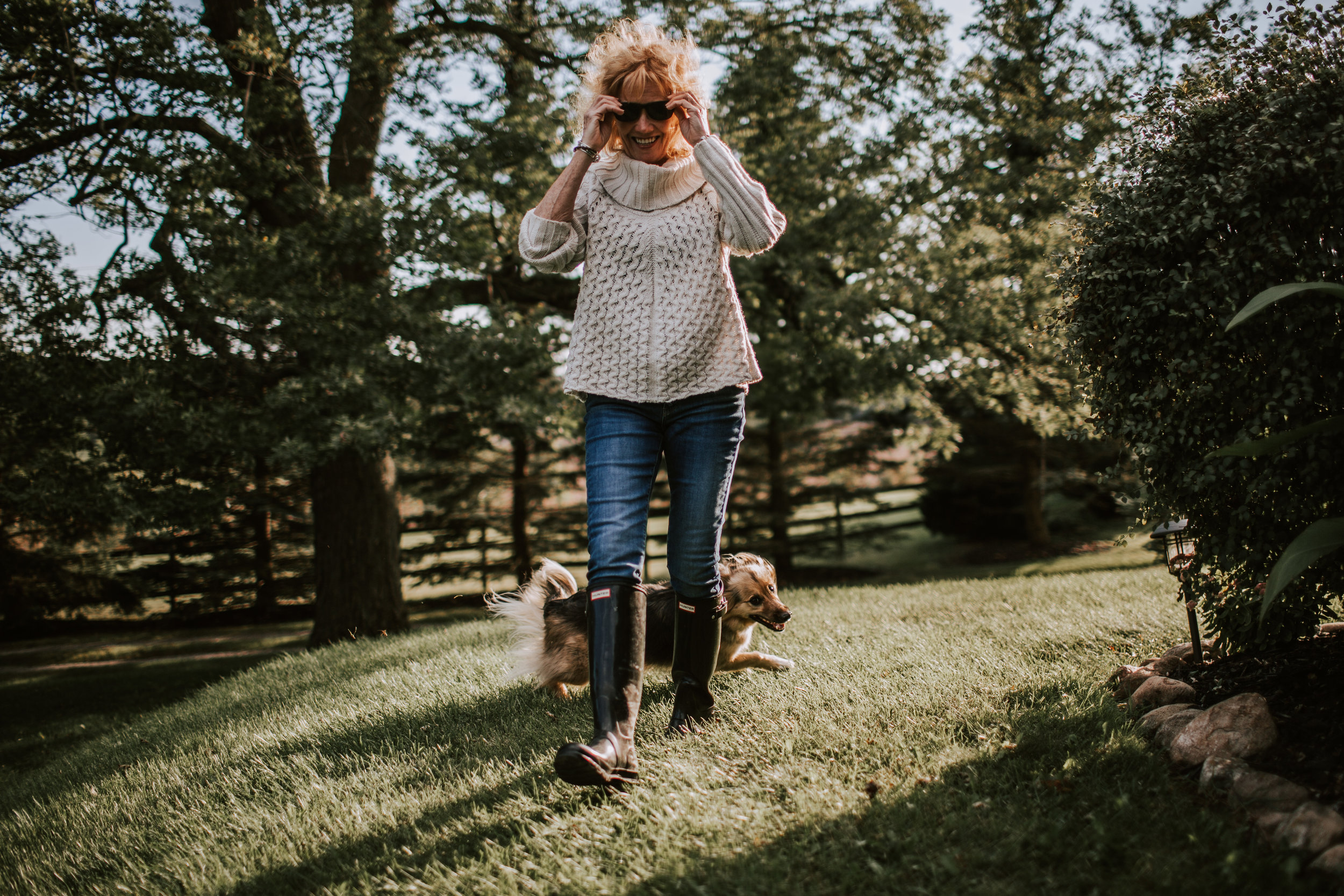 Jodi: At the end of your writing I want you to try and define yourself in one word.
Arlene: Are you kidding me?! Cripes! One word is impossible!